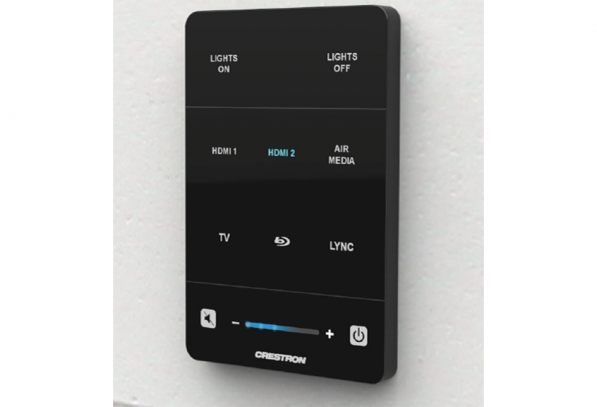 Crestron MPC3-102-B
The 3-Series® Media Presentation Controller 102 (MPC3-102-B) is a wall-mounted, PoE powered 3-Series Control System® automated processor and control panel in one. Its modern appearance and customizable backlit capacitive buttons provide an ideal user-interface for controlling AV and other functions. It offers fully-programmable functionality, supports web and cloud-based configuration and management, and integrates with Crestron Fusion® software as part of a complete managed enterprise solution.

Crestron® MPC3 series controllers are perfect for classrooms, meeting rooms, lecture halls, and training facilities – wherever a simple yet powerful controller is needed but space is limited. Use the MPC3-102-B to control a video display or AV system, adjust lighting and window shades, or any other custom application.

The MPC3-102-B is designed for flush-mount installation in a wall using a single-gang U.S. electrical box (not included). It can also be installed in a podium with no back box. A retrofit mounting bracket is also available to allow installation over a 2-gang U.S. electrical box, which offers an easy upgrade solution to replace an older MPC-M5 series controller.